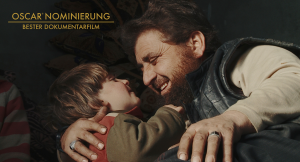 Dear Pirates,
Wonderful news! At this year's announcement of the Academy's nominations, Talal Derki's Documentary OF FATHERS AND SONS has been named as a contender in the category Best Documentary Feature.
This means that – for the first time in our history – we are distributing a film that is nominated for an Oscar®.
Congratulations to our fellow production-crews of Basis Berlin and Ventana Films and naturally to the fantastic Talal Derki, whose astonishing documentary gives us a new insight on the desperate situation in Syria.
From now on it's fingers crossed! – until, on the night of the 24th February, we'll be told "And the winner is…"
Ahoy!
Your Port au Prince Crew